Dubai Mall Exploring the Wonders Where Luxury and Entertainment Collide
When one thinks of visiting Dubai & Dubai Mall, the images of towering skyscrapers, opulent lifestyles, and grandeur come to mind. And at the heart of this vibrant city, amidst the dazzling urban landscape, stands the magnificent Dubai Mall. It's not just a shopping center; it's an extravagant world of entertainment and luxury. In this article, we'll delve into the sprawling Dubai Mall, exploring its immense size, a variety of shops, some lesser-known facts, and the captivating attractions that await visitors
The Gargantuan Size: Dubai Mall

The Dubai Mall isn't just big; it's colossal. Covering a staggering area of 13 million square feet, it stands as the world's largest shopping mall. To put this into perspective, it's roughly the size of 50 international football fields combined. This immense size isn't just about shopping; it's about creating a world of experiences.
Retail Heaven: Dubai Mall

Dubai Mall boasts an astonishing 1,200 retail shops, housing some of the most prestigious brands from around the globe. From haute couture fashion boutiques to high-end jewelry stores, this mall caters to the most discerning shoppers. But it's not just about luxury; there's something for everyone. You can explore the Spice Souk for exotic spices, visit the Dubai Aquarium & Underwater Zoo, or browse through the countless electronic stores for the latest gadgets.
Hidden Gems and Lesser-Known Facts:
The Dubai Dino: Among the intriguing attractions within the mall is a hidden gem called "Dubai Dino." This awe-inspiring exhibit features a real-life dinosaur skeleton, which is over 155 million years old. It's a rare chance to come face-to-face with the ancient past while shopping for modern-day treasures.
Olympic-Sized Ice Rink: Not many know that Dubai Mall boasts an Olympic-sized ice rink on its ground floor. It's perfect for those looking to glide on ice in the heart of the desert.
Gold to Go: At Dubai Mall, you'll find the world's first Gold ATM, aptly named "Gold to Go." This ATM dispenses 24-karat gold bars and coins, a testament to Dubai's reputation for extravagance.
The Human Waterfall: One of the most captivating sights in the mall is the Waterfall, which cascades over four levels, complete with life-sized sculptures of divers. It's a mesmerizing spectacle that draws visitors into its calming embrace.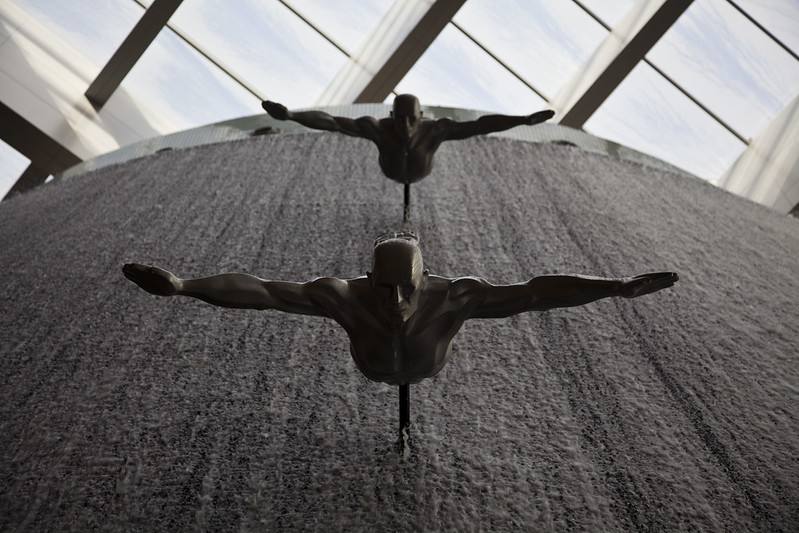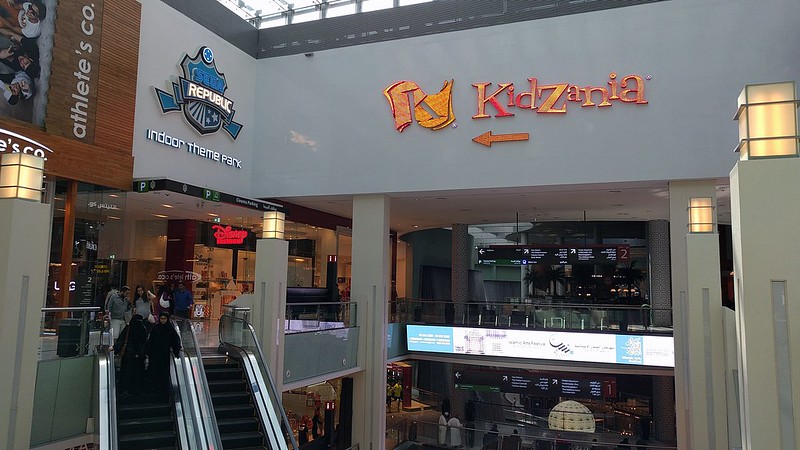 Attractions Beyond Shopping:
Dubai Mall isn't just a shopping haven; it's a world of entertainment and adventure.
Dubai Mall Aquarium & Underwater Zoo: One of the mall's most iconic attractions is the Dubai Aquarium, home to thousands of aquatic animals, including sharks and rays. The underwater tunnel provides a breathtaking view of these majestic creatures swimming overhead.
KidZania Dubai Mall: If you have little ones in tow, KidZania is a must-visit. It's an interactive city where children can role-play various professions, from firefighters to doctors, gaining valuable life skills while having fun.
VR Park: Dubai Mall houses a cutting-edge Virtual Reality Park, offering an immersive experience in the world of virtual gaming, simulation, and adventure.
Dubai Fountain: Outside the mall, the Dubai Fountain is a spectacle not to be missed. Set against the backdrop of the Burj Khalifa, this choreographed water show is a visual feast, with water jets reaching heights of up to 500 feet, illuminated by 6,600 lights.
Dubai Opera: Adjacent to the mall is the Dubai Opera, a cultural gem that hosts world-class performances, from opera to ballet and concerts. Its unique architecture is a marvel in itself.
In conclusion, the Dubai Mall is more than just a shopping center; it's a testament to Dubai's ambition and vision. With its sheer size, diverse shopping options, hidden gems, and captivating attractions, it's a destination that offers something extraordinary for every visitor. So, whether you're a shopaholic, a thrill-seeker, or a culture enthusiast, a day at Dubai Mall promises a world of unforgettable experiences in the heart of this dynamic city. Not only Dubai city is a heaven for shopping lovers but also offers extreme adventure & fun to thrill seekers and the best place to visit is Dubai desert for unlimited Fun.
From Dubai Desert Safaris to Unforgettable Adventures: Discover Dubai's Most Captivating Attractions: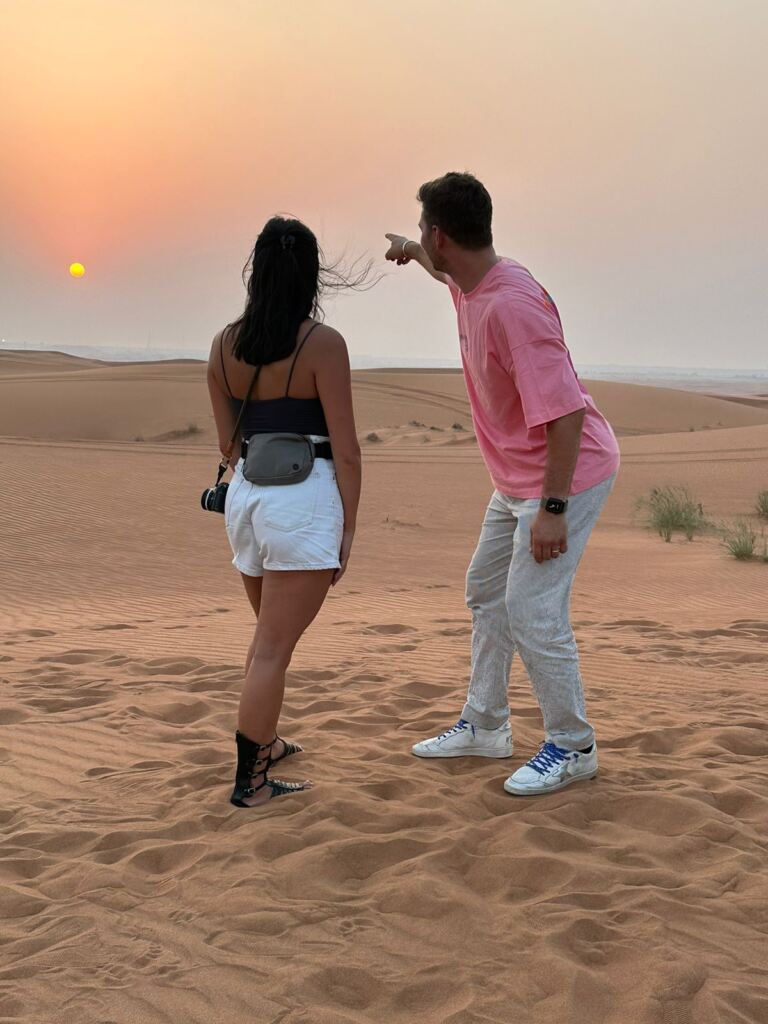 Dubai, the jewel of the United Arab Emirates, is a city known for its opulence and grandeur. Yet, hidden beneath the glittering skyline lies a world of captivating attractions that beckon visitors from around the globe. Among these, none are more enticing than the enchanting Dubai desert safaris.
Leading the charge in desert exploration is Dune Drifters Travel and Tourism Dubai, your gateway to a range of private and shared vehicle-based desert safaris. Their expertise ensures a truly memorable adventure.
Desert Safaris: Venture into Dubai's sprawling desert landscapes and immerse yourself in the mesmerizing beauty of sand dunes and breathtaking sunsets. If you're seeking an element of thrill, try your hand at sand boarding or embark on a heart-pounding ATV quad biking expedition.
Variety of Desert Experiences: Dune Drifters offers a variety of desert trip options, from buggy rides to VIP lounges where you can relax while soaking in the tranquil desert ambiance.
Private Safaris: For those craving a more intimate journey, Dune Drifters provides private desert safaris, allowing you to tailor your desert adventure to your preferences, making it perfect for couples, families, and groups of friends
Yet, Dubai's allure extends beyond its deserts. Beyond the dunes, you'll find captivating adventures like indoor skiing at Ski Dubai, exhilarating skydiving experiences over the iconic Palm Jumeirah, and even the chance to swim with sharks at the Dubai Aquarium & Underwater Zoo.
In summary, Dubai's most captivating attractions are not confined to its glittering cityscape; they extend to the enchanting adventures that await in its expansive deserts. With Dune Drifters Travel and Tourism Dubai, you can explore the desert's marvels and embark on an array of captivating tours that Dubai has to offer, ensuring your visit is nothing short of extraordinary. So, pack your spirit of adventure and prepare to uncover Dubai's most alluring side