Dubai holidays 2023 all inclusive and attractions you need to know before you travel
Dubai Delights: A 2023 Guide to Unforgettable Attractions, Hotels, and Adventures" Dubai Attractions: Where Dreams Come to Life. Dubai, the gem of the Middle East, never ceases to amaze travelers with its jaw-dropping attractions and experiences. In 2023, this dazzling city is ready to welcome you with open arms and promises an unforgettable journey. From iconic skyscrapers to cultural treasures, let's embark on a virtual tour of the top Dubai attractions, hotels, things to do, and places to visit this year.
Dubai Attractions: A Glimpse of the Future
Burj Khalifa: Start your Dubai adventure by gazing upon the world's tallest building, the Burj Khalifa. Ascend to the 148th floor for breathtaking panoramic views of the city.
Palm Jumeirah: Explore the man-made wonder that is the Palm Jumeirah, an artificial island featuring luxurious resorts, villas, and pristine beaches.
Dubai Mall: Shopaholics, rejoice! Dubai Mall is a retail paradise, boasting over 1,200 shops, the Dubai Aquarium, and the mesmerizing Dubai Fountain show.
Dubai Opera: Experience culture and art at its finest at the Dubai Opera, where world-class performances and shows are a regular occurrence.
Dubai Marina: Stroll along the picturesque Dubai Marina promenade, lined with trendy restaurants, cafes, and a lively atmosphere.
Dubai Hotels: Luxury Redefined
Dubai is synonymous with opulence, and its hotels are no exception. Here are some of the best Dubai hotel offers for your stay:
Burj Al Arab: The epitome of luxury, this iconic sail-shaped hotel offers unparalleled service, private beaches, and sumptuous suites.
Atlantis, The Palm: Located on the Palm Jumeirah, this ocean-themed resort boasts an underwater aquarium and a waterpark for the ultimate family vacation.
Jumeirah Beach Hotel: Nestled beside the shores of the Arabian Gulf, this hotel offers stunning sea views, a private beach, and access to Wild Wadi Waterpark.
Armani Hotel Dubai: Located in the Burj Khalifa, the Armani Hotel offers stylish accommodations with panoramic views and access to the Dubai Mall.
Airbnb Apartments and Villas: Cozy Retreats
For those seeking a more personalized experience, Airbnb has a wide range of apartments and villas to choose from. Whether you prefer a cozy apartment in the heart of the city or a lavish villa with a private pool, there's something for every traveler.
Things to Do in Dubai: Beyond the Ordinary
Desert Safari Dubai: No visit to Dubai is complete without a desert safari adventure. Experience the thrill of dune bashing, sand-boarding, and camel riding in the mesmerizing Dubai desert.
Sunrise Safaris: For early risers, a sunrise safari in Dubai is a magical experience. Watch the desert come alive with golden hues as the sun paints the sky.
Dubai Weather in November and December
November: Dubai welcomes cooler temperatures in November, with daytime averages ranging from 22°C to 30°C (72°F to 86°F). It's perfect for outdoor activities and exploring the city.
December: December brings slightly cooler weather, with daytime temperatures ranging from 18°C to 26°C (64°F to 79°F). It's an ideal time for enjoying the outdoor festivities and attractions.
Dubai Currency: AED – Dirham
The currency in Dubai is the UAE Dirham (AED). You can easily exchange your currency at banks, exchange offices, or withdraw cash from ATMs. Credit cards are widely accepted in hotels, restaurants, and shops.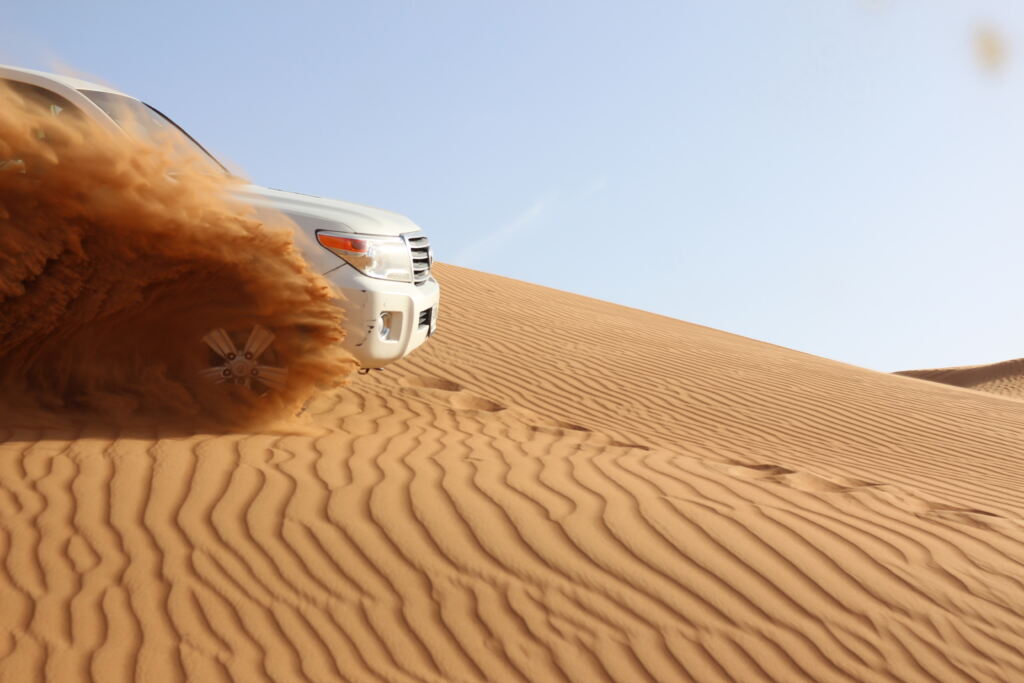 Morning Desert Safari Dubai Tour: An Adventure to Remember
Embark on a morning desert safari tour in Dubai to witness the serene beauty of the desert at its best. This adventure includes: A morning desert safari in Dubai offers an exhilarating adventure that combines traditional and modern desert experiences. Start your day by riding majestic camels, immersing yourself in the timeless charm of the Arabian desert. Feel the adrenaline rush as you try sand boarding down the dunes, followed by a heart-pounding session of sand bashing in a 4×4 vehicle.
For those seeking more excitement, there's the option to rent ATVs, Polaris or Razor dune buggies, allowing you to explore the vast and mesmerizing desert landscapes while enjoying the thrill of off-roading. It's an unforgettable morning filled with fun and adventure in Dubai's stunning desert.
Buggies: Feel the adrenaline rush as you ride dune buggies over the sandy dunes.
Sunrise: Watch the spectacular sunrise in the desert, a moment that will leave you in awe.
ATV Quad Biking : Rent out an ATV quad bike for a 30 to 60 minutes session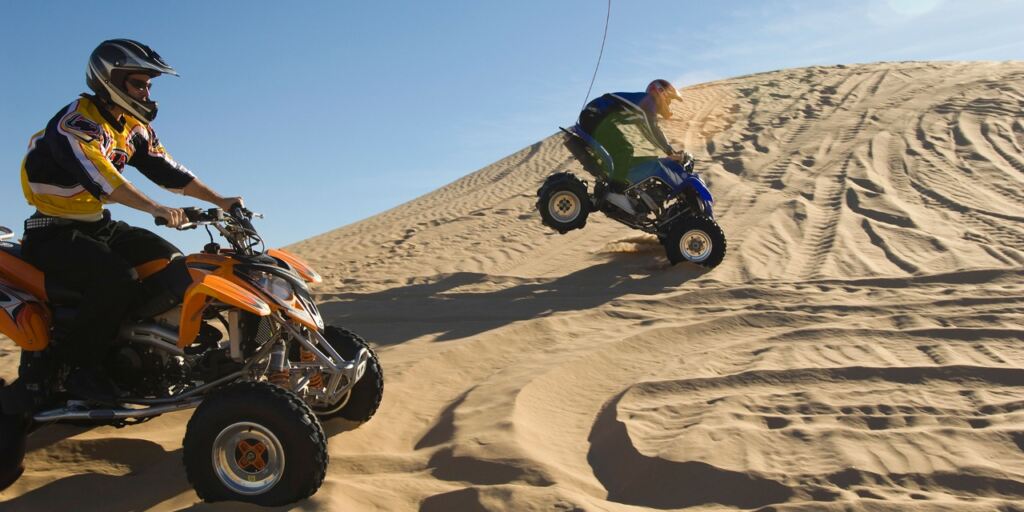 In conclusion, Dubai in 2023 promises a treasure trove of attractions, luxurious hotels, and unforgettable adventures. With ideal weather conditions, a rich cultural scene, and the allure of the desert, it's no wonder Dubai remains a top travel destination. So pack your bags, book your stay, and prepare for an extraordinary journey in the city of dreams. And don't forget to experience the magic of the desert with "Dune Drifters Dubai Desert Safari."
Dubai City Tour: Unveiling the Modern Marvels
A Dubai visit wouldn't be complete without a city tour that showcases the city's iconic landmarks and futuristic architecture. In 2023, Dubai continues to dazzle tourists with its remarkable cityscape. Here are some famous places to explore during your Dubai city tour:
The Dubai Frame: Start your journey at The Dubai Frame, an architectural marvel that offers breathtaking panoramic views of both old and new Dubai.
Jumeirah Mosque: A perfect blend of Islamic architecture and stunning beauty, this mosque is a must-visit for its intricate design and cultural significance.
Dubai Creek: Discover the heart of Dubai at the historic Dubai Creek, where you can take an abra (traditional wooden boat) ride and explore the bustling souks (markets).
Dubai Museum: Located in the Al Fahidi Fort, this museum offers a glimpse into Dubai's rich history and transformation from a fishing village to a global metropolis.
The Spice and Gold Souks: Immerse yourself in the vibrant atmosphere of these traditional markets, where you can haggle for spices, gold, and unique souvenirs.
Burj Al Arab: While you may not be staying here, a visit to the iconic Burj Al Arab is a must. Its sail-like structure is a symbol of Dubai's opulence.
Dubai Miracle Garden: If you're visiting between November and April, don't miss the Dubai Miracle Garden, a floral wonderland featuring millions of blooming flowers arranged in stunning designs.
Abu Dhabi Tour from Dubai: A Journey to the Capital
While you're in Dubai, take the opportunity to explore the nearby capital of the United Arab Emirates, Abu Dhabi. It's just a short drive away and offers a unique blend of tradition and modernity. Here's what you can experience during an Abu Dhabi city tour:
Sheikh Zayed Grand Mosque: Marvel at the sheer opulence and grandeur of the Sheikh Zayed Grand Mosque, one of the world's largest and most beautiful mosques.
Emirates Palace: Enjoy a photo stop at the luxurious Emirates Palace hotel, known for its stunning architecture and lavish interiors.
Yas Island: Explore Yas Island, home to the Ferrari World theme park, Yas Waterworld, and the futuristic Yas Marina Circuit.
Qasr Al Watan: Visit the Presidential Palace, Qasr Al Watan, and discover the rich heritage of the UAE through its impressive architecture and cultural exhibitions.
Louvre Abu Dhabi: Art enthusiasts will appreciate a visit to the Louvre Abu Dhabi, a masterpiece of modern architecture that houses an extensive collection of art and artifacts.
Heritage Village: Get a taste of traditional Emirati life at the Heritage Village, where you can explore the Bedouin lifestyle and handicrafts.
Corniche Beach: Relax and unwind at the Corniche Beach, offering stunning views of the city skyline.
A day trip from Dubai to Abu Dhabi is a convenient way to experience the UAE's diverse cultural and architectural offerings.
In 2023, Dubai and Abu Dhabi continue to be hotspots for travelers seeking a unique blend of tradition and modernity, luxury, and cultural enrichment. So, whether you're marveling at Dubai's futuristic skyline or delving into Abu Dhabi's rich heritage, your journey through the UAE promises unforgettable memories. And don't forget to capture it all with your visit to "Dune Drifters desert safari tour operator in Dubai."