Desert Safari Tours in Dubai: An Adventure of a Lifetime with Dune Drifters Dubai
Desert safari tours are booked by millions around the year because Dubai city is known for its iconic skyscrapers and luxurious lifestyle, also offers a unique and unforgettable experience – Desert Safari Tours. This article will take you on a virtual journey through the sandy landscapes of Dubai, from desert safari tickets to the thrilling activities of evening and morning desert safaris, all offered by the renowned agency, Dune Drifters Dubai.
Desert Safari Dubai Tickets – Your Gateway to Adventure
The first step in embarking on a desert safari adventure in Dubai is obtaining your desert safari tickets. These golden tickets, provided by Dune Drifters Dubai, open the doors to an experience that blends adventure, culture, and natural beauty
Dubai Desert Tour – A Journey into the Heart of Arabia
Once you have your desert safari tickets from Dune Drifters Dubai in hand, you're ready to begin your Dubai desert tour. The tours typically start with a pickup from your hotel in a comfortable 4×4 vehicle. The experienced drivers, well-versed in desert terrain, will navigate the dunes, ensuring a safe and thrilling ride.
Morning Desert Safari – A Tranquil Sunrise Experience
For early birds and nature enthusiasts, the morning desert safari with Dune Drifters Dubai is the perfect choice. As the sun peeks over the horizon, you'll witness the desert coming to life. The golden hues of the sand dunes and the tranquil silence create a serene atmosphere
Evening Desert Safari – A Thrilling Adventure Under the Stars
If you're seeking an adrenaline rush and the enchantment of an Arabian night, the evening desert safari with Dune Drifters Dubai is the ideal option. As the sun sets, the desert transforms into a magical playground. Dune bashing, a heart-pounding experience where your skilled driver from Dune Drifters Dubai maneuvers the dunes, is a highlight.
Desert Safari Booking – Tips for an Unforgettable
Booking your desert safari tour with Dune Drifters Dubai is a crucial step in ensuring a seamless and memorable adventure. Here are some tips to make your desert safari booking experience a breeze
1. Plan Ahead: Dubai is a popular tourist destination, so it's wise to book your desert safari with Dune Drifters Dubai well in advance, especially during peak seasons.
2. Choose the Right Package: Select a package from Dune Drifters Dubai website that suits your preferences and budget. Morning, evening, and overnight safaris each offer unique experiences.
3. Check Reviews: Read reviews from fellow travelers to gauge the quality of service offered by Dune Drifters and other tour operators.
4. Pack Wisely: Prepare for the desert conditions with comfortable clothing, sunscreen, and a camera to capture those breathtaking moments.
5. Verify Inclusions: Ensure your package from Dune Drifters Dubai includes transportation, activities, meals, and any additional perks you desire.
6. Safety First: Prioritize your safety by choosing Dune Drifters Dubai, a licensed and reputable tour operator with well-maintained vehicles.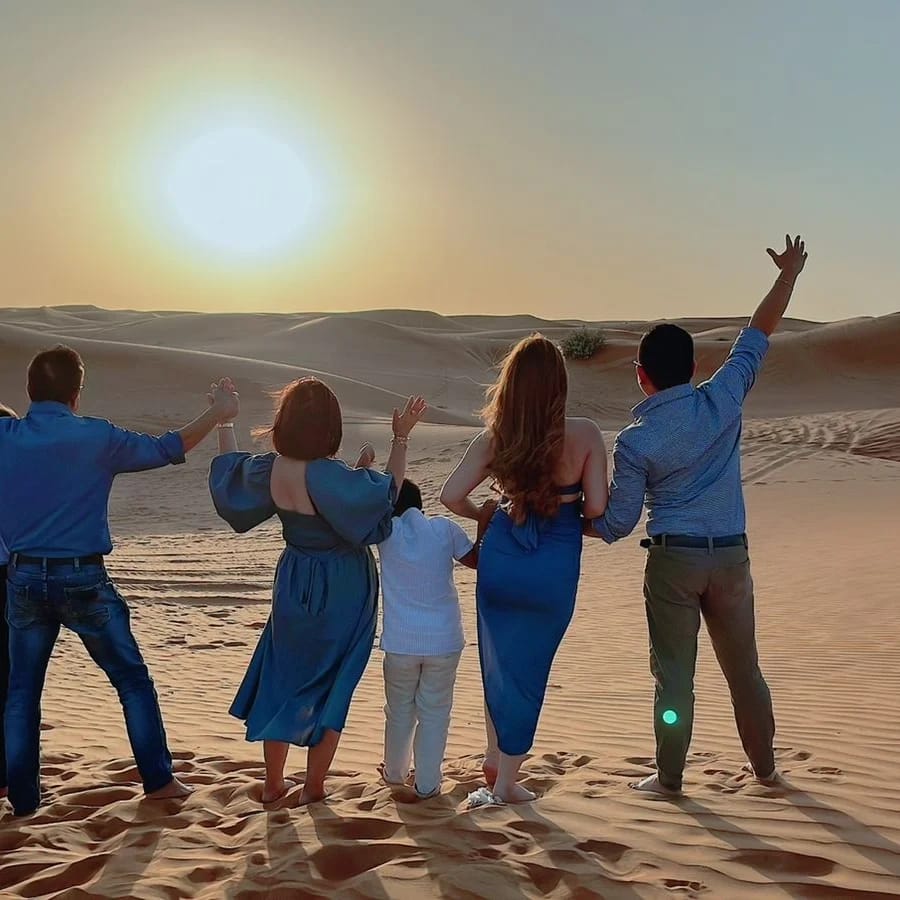 Dubai's Desert Safari and Beyond: A Feast for the Senses
Beyond the adrenaline-pumping activities and picturesque landscapes of the desert safari with Dune Drifters Dubai, Dubai boasts a plethora of famous landmarks and attractions that beckon travelers from around the world. These iconic sites seamlessly blend with the spirit of adventure, making your Dubai experience truly unforgettable.
Burj Khalifa: Reaching for the Desert Sky
The Burj Khalifa, the world's tallest skyscraper, rises like a desert oasis amidst the modern cityscape. Just as the dunes of the desert seem to touch the sky, the Burj Khalifa stands as a testament to human ingenuity. Witness the breathtaking views from the observation decks, which offer a unique perspective on the city's stunning architecture and natural surroundings.
The Palm Jumeirah: An Island Paradise
Like an oasis in the desert, the Palm Jumeirah is a man-made marvel that resembles a palm tree fringed by a crescent. It's a testament to Dubai's ambition and innovation. Explore the luxurious resorts, dine in world-class restaurants, and take in the mesmerizing views of the Arabian Gulf.
Dubai Mall: Where Shopping Meets Adventure
Dubai Mall, one of the largest shopping malls in the world, is a bustling desert oasis of retail therapy and entertainment. While the desert safari with Dune Drifters Dubai offers a taste of adventure, the mall offers a different kind of thrill, with its world-class shopping, indoor ice rink, and the fascinating Dubai Aquarium and Underwater Zoo.
Jumeirah Beach: A Coastal Oasis
Just as the desert safari with Dune Drifters Dubai provides respite from the bustling city, Jumeirah Beach offers a coastal oasis. Feel the soft sands between your toes, soak up the sun, and admire the stunning views of the Arabian Gulf. The pristine beaches provide a perfect contrast to the desert's golden dunes.
Dubai Creek: A Waterway Through Time
Much like the desert has shaped Dubai's history, the Dubai Creek has been the city's lifeline for centuries. Take a traditional abra ride along this historic waterway, passing by the bustling souks (markets) on either side. It's a glimpse into Dubai's trading heritage.
Conclusion: Your Desert Safari Adventure with Dune Drifters Dubai and Dubai's Wonders Await
In conclusion, a desert safari tour in Dubai with Dune Drifters is an adventure that should not be missed during your visit to this extraordinary city. Whether you opt for a morning or evening safari, the experience is sure to leave you with lasting memories of Dubai's mesmerizing desert landscapes, thrilling activities, and rich cultural encounters. Dubai's famous landmarks and attractions, such as the Burj Khalifa, Palm Jumeirah, Dubai Mall, Jumeirah Beach, and Dubai Creek, seamlessly complement the spirit of adventure found in the desert safari with Dune Drifters Dubai. So, secure your desert safari tickets from Dune Drifters Dubai, make your desert safari booking, and get ready for an adventure of a lifetime in the heart of Arabia, where ancient traditions meet modern marvels.